Jingle Bell Run 5K & Kids 1K
2018 Jingle Bell Run Saturday, December 8
5K begins at 9 AM
Kids 1K begins at 10 AM
The Sights & Sounds of Christmas Jingle Bell Run 5K will race through San Marcos' beautiful downtown and Historic District on Saturday, December 8. Runners and walkers of all ages and fitness levels are welcome to participate! Everyone will be given jingle bells to wear during the race and holiday attire is encouraged. The race will begin and finish at San Marcos Plaza Park at Hutchison & CM Allen and will feature Christmas music throughout the course. Participants who are registered by December 1 will receive a t-shirt. The cost is $30 now through December 7 and will be $40 the day of the race.
Packet pickup will be available during the festival from 6-11 PM at the 5K tent, located just within the main gate at San Marcos Plaza Park.
The awards ceremony will be held at San Marcos Plaza Park following the Kids 1K. Top finishers in each category will be recognized at this time and door prizes will be given out.
Online registration ends Dec. 7th at Midnight.  In person registration can be completed at the San Marcos Activity Center until Dec 4th or race tent each festival night 6-11PM.
9:00am 5K Start – 10:00am Kids 1K Start
To make changes to your registration such as T-shirt size, gender, etc. please click below:
To VERIFY your registration or resend a confirmation email please click below-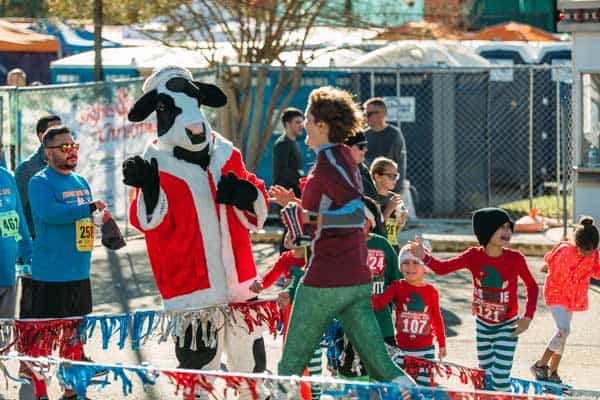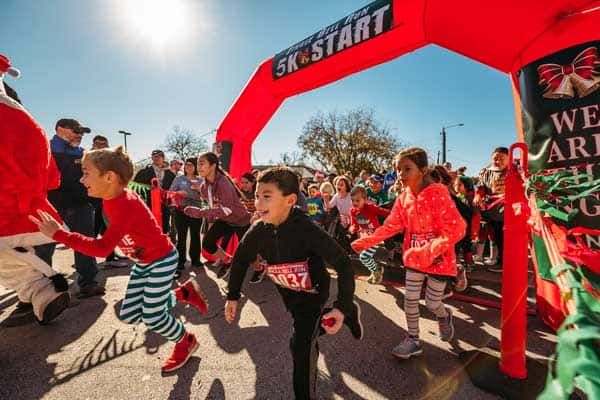 $10 Super Early Registration
December 9th – 15th, 2017
$20 Early Registration
December 16, 2017 – June 30, 2018
$25 Pre-Registration
July 1 – September 30, 2018
$30 Registration
October 1 – December 7, 2018
$40 Race Day
December 8, 2018 – registration opens at 8 am at 5K tent by main entrance
$10 Pre Registration
$15 Race day
(Stay connected-we will run promotions during the year)
*Registrants after Dec 3rd are not guaranteed a t-shirt size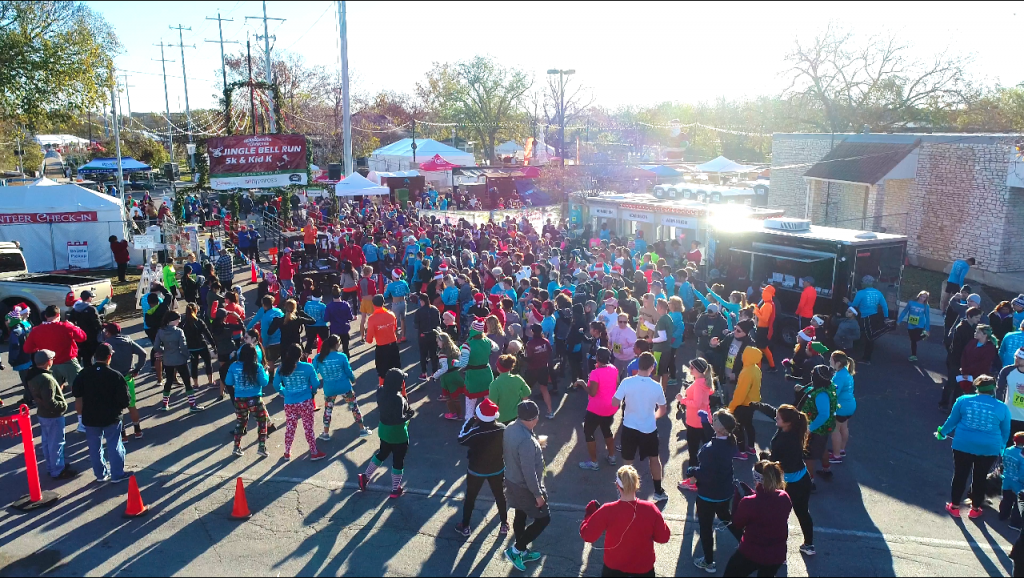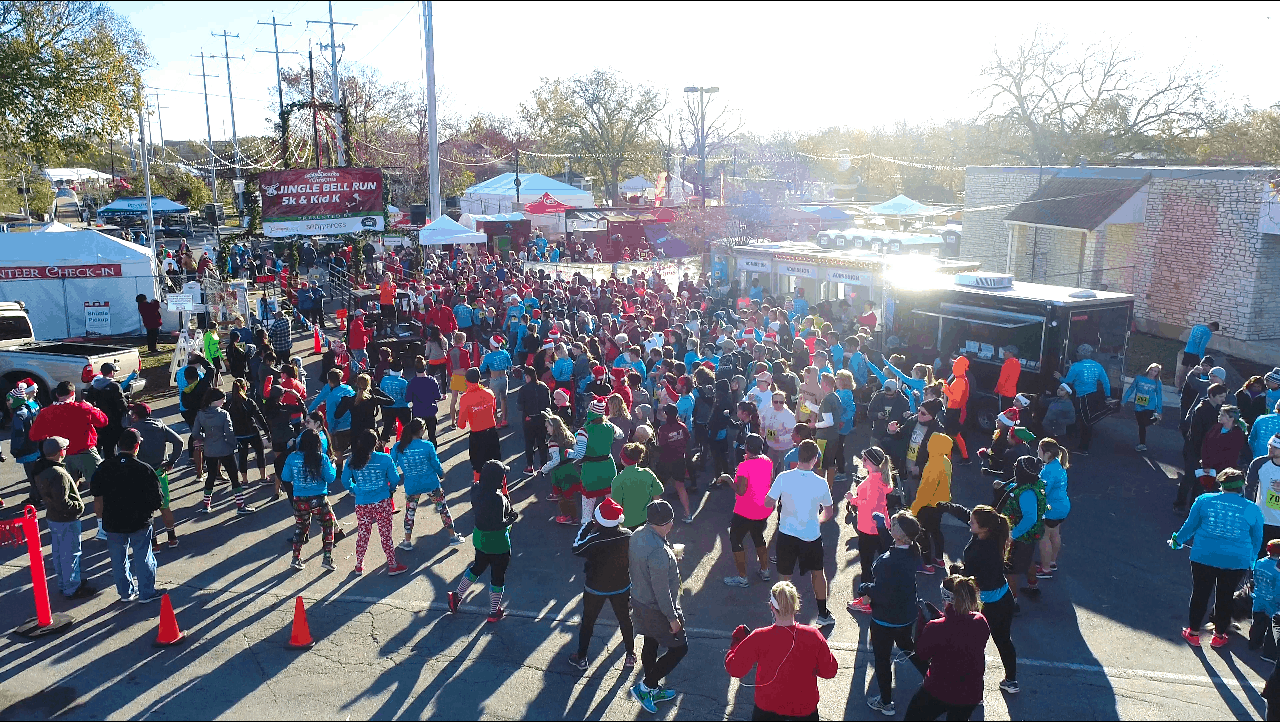 Frequently Asked Questions
Basic Registration Edits and Verification
Runners may change the basic registration details, verify registration, transfer a registration to another runner, and resend a confirmation email with no cost.
All basic edits must be completed by DEC 4th.
A few examples of basic edits include: email, address, phone number, birth date, gender, shirt size, etc.
You can take care of BASIC REGISTRATION EDITS by CLICKING HERE, and choosing the option that pertains to your situation.
You can VERIFY REGISTRATION by CLICKING HERE
DEC 4th you will not be able to make T-shirt size changes or transfer registration to another runner without contacting the race director.
Common Questions with the Answer Being Yes!
May I run with a stroller and not have to register the children in the stroller?
May I run with a dog on a leash?

Strollers and dogs please remain towards the back of the start group for safety.

Is there a place for me to store my coat, bag, keys, etc.? –Runner's closet near registration however, we are not responsible for lost, left behind, or stolen items.
Will you have vendors providing b-fest sandwiches, water, and hot chocolate to runners?
Is the race on rain or shine?
Is this race chipped/timed?
If I cannot run/walk may my sister/brother/friend/child/husband/cousin take my place? – (SEE ABOVE ABOUT TRANSFERRING REGISTRATION)
May someone else pick up my packet?
Can I pick up my packet in race tent 6-11pm of festival each night?
If I cannot make the race may I pick up my packet Dec 3rd in the race tent that night?
Can I use the free entry any night of the festival once I pick up my packet?
Is it okay to dress in holiday attire?
Will I receive a Technical T-shirt, chipped bib, free entry into festival, safety pins, and jingle bells in my runner packet?
Is the course certified?
Is there holiday music on the race course?
May I walk this race if I am not a runner? –We have a huge group of walkers.
May I park at the San Marcos Activity Center, Library, and downtown parking spaces race morning?
May my friends, mother, cousin, spouse, come down and cheer me on?
If my questions are not answered may I contact the Race Director?
Common Questions with the Answer Being No.
My dog is well behaved may he run off a leash?
May I leave my kids at registration while I run/walk?
May I run with my bib anywhere other than on the front of my shirt?
May I have a refund if I cancel my registration before the race for any reason?
Is this a closed course? -However, we have over 20 SMPD, several Rangers, and loads of San Marcos Runners Club, and community volunteers to guide you.
Are there refunds for cancellation due to severe weather or an act of God?