All Are Welcome!
Santa's Jingle Bell Run is a 5K event that runs through our beautiful downtown and Historic District. The race will start and finish at the San Marcos Plaza Park at Hutchison & CM Allen. Christmas music will be enjoyed along the 5K route. The Kids K route runs through our Sights and Sounds Festival!
"Best Festive" voted by the crowd will win a new TV, so plan to come in your holiday gear!
December 9, 2023
7:30 AM—Packet Pickup and Walk Up Registration opens*
8:50 AM—Online Registration closes
9:00 AM—5K Starts
10:05 AM—1K Starts (as soon as 5K is finished)
10:30 AM—Awards Ceremony (as soon as 1K is finished)
11:00 AM—Meet us at Blacks BBQ for the After Party! Those who join us will be entered to win a new TV!
Early Packet Pick Up is located next to the main entrance of Sights & Sounds 6–10 PM each night during the festival at the 5K tent located outside and next to the main gates at CM Allen & Hutchison Streets.
Entry into the festival is not required to pick up packets, but you must park in a designated area and walk to the pickup area. Runner packets must be picked up by the start of the race or the runner forfeits the packet. Packets may be picked up by others on the runner's behalf.
Online registration closes at 8:50 a.m. on Race Morning.
Again: You must park and walk to the packet pickup area. Please do not stop on CM Allen.
Overall Male/Female
Overall Male/Female Masters
Top three Male/Female

9 & Under
10–14
15–19
20–24
25–29
30–34
35–39
40–44
45–49
50–54
55–59
60–64
65–69
70–74
75–79
80–84
85 & over
5K—Ages 19 and over

July 1 – July 31: $35
Aug 1 – Sep 30: $40
Oct 1 – Nov 13: $45
Nov 14 – Race Morning: $50

5K—Ages 18 and under

July 1 – Nov 13: $25
Nov 14 – Race Morning: $30

Kids K

July 1 – Nov 13: $15
Nov 14 – Race Morning: $20

Santa Suit
(add-on, first come first serve)—$20.00 Buy a Santa Suit and proudly wear it in the race!
Note: Race Shirt Guarantee Deadline is Nov 12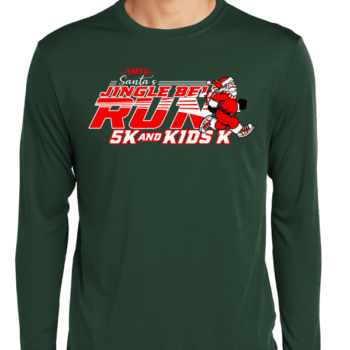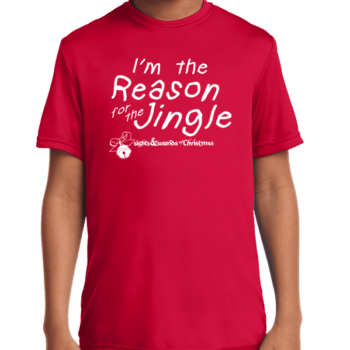 Sign up to volunteer in the days leading up to the race and on race day. Volunteers who sign up by November 25 will receive a volunteer shirt.
2023: Sign Up or Donate Here!
Online Registration
Online registration for 2023 is now available. Save money by registering early!
Information Changes
To make changes to your registration such as T-shirt size, gender, etc. please follow the link below.
Verification
To verify your registration information or resend a confirmation email, please follow the link below.
Frequently Asked Questions
Runners may change the basic registration details, verify registration, transfer a registration to another runner, and resend a confirmation email with no cost.
All basic edits must be completed by Dec 4th.
A few examples of basic edits include: email, address, phone number, birth date, gender, shirt size, etc.
You can take care of basic registration edits by following this link and choosing the option that pertains to your situation.
You can verify registration by following this link.
Dec 4th you will not be able to make T-shirt size changes or transfer registration to another runner without contacting the race director.
May I run with a stroller and not have to register the children in the stroller?
May I run with a dog on a leash?

Strollers and dogs please remain towards the back of the start group for safety.

Is there a place for me to store my coat, bag, keys, etc.?

You may use the runner's closet near registration. However, we are not responsible for lost, left behind, or stolen items.

Will you have vendors providing water and hot chocolate to runners?
Is the race on rain or shine?
Is this race chipped/timed?
If I cannot run/walk, may my sister/brother/friend/child/husband/cousin take my place?

See above about transferring registration.

May someone else pick up my packet?
Can I pick up my packet in the race tent 6–10pm each night of the festival?
If I cannot make the race may I pick up my packet Dec 3rd in the race tent that night?
Can I use the free entry any night of the festival once I pick up my packet?
Is it okay to dress in holiday attire?
Will I receive a Technical T-shirt, chipped bib, free entry into festival, safety pins, and jingle bells in my runner packet?
Is the course certified?
Is there holiday music on the race course?
May I walk this race if I am not a runner?

We have a huge group of walkers.

May I park at the San Marcos Activity Center, Library, and downtown parking spaces race morning?
May my friends, mother, cousin, spouse, come down and cheer me on?
If my questions are not answered may I contact the Race Director?
My dog is well-behaved; may he run off a leash?
May I leave my kids at registration while I run/walk?
May I run with my bib anywhere other than on the front of my shirt?
May I have a refund if I cancel my registration before the race for any reason?
Is this a closed course?

This is not a closed course. We will have 20 officers along the route to help control traffic. Officers could stop walkers to let traffic through. They will try their best to stop vehicles when a runner is actively running competitively. Please be cautious at all intersections.

Are there refunds for cancellation due to severe weather, global pandemic, acts of God, or other uncontrollable factors?